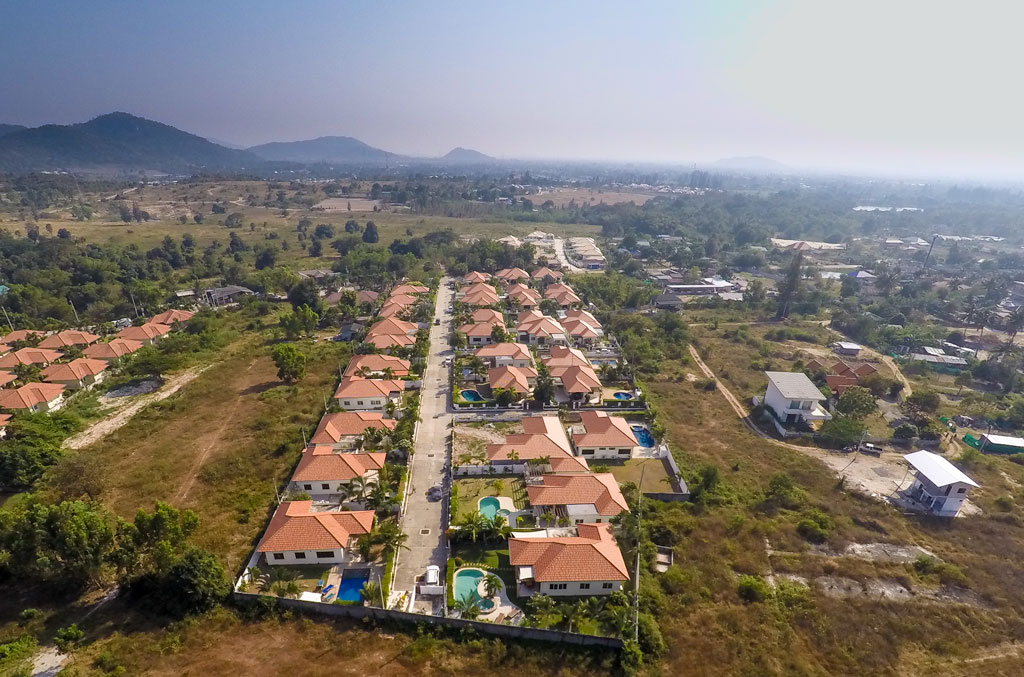 Orchid Paradise Homes
Welcome to Orchid Paradis Homes, the lovely villa project set amidst stunning mountains close to Hua Hin city center. Our private resort-homes combine leisure, investment and vacation in perfect harmony; here permanent residents and holidaymakers live together as neighbours surrounded by lush tropical nature less than 15 minutes from Hua Hin city center and beautiful beaches.
Orchid Paradise Homes has something for everyone; those who wish to enjoy the privacy and tranquility in their own spacious garden and large swimming pool or others who prefer a more lively atmosphere in the common area / club house with BBQ, swimming pool with water slide, restaurant and bar. Orchid Paradise Homes has always room for children, and families with kids will enjoy the fun and friendly surroundings. If golf is your favourite pastime, Hua Hin sports more than 10 golf courses and Orchid Paradise Homes is located just 5 kilometers from the internationally renown Black Mountain golf course and Water Park. Here you also have the opportunity to try water skiing and wakeboarding in the brand new cable park.
Orchid Paradise Homes is hard to describe in only words and pictures with its unique and unpretentious atmosphere, child friendly surrouondings and fun evenings around the common area. Our aim is to provide the perfect villa, an enjoyable frame for good times and joyous vactions with friends and family, but also to ensure the very best service during your stay.
Only the best care for our precious visitors
Orchid Paradise Homes is all about enjoying your holiday and life in Thailand.
Common area / club house
Big common pool – Waterslide – Bar - Restaurant
In Orchid Paradise Homes we wish to emphasize on family life and good times for both holidaymakers as well as permanet residents. Our common area serves as the heart of our small village; here is always room for kids and fun around the big swimming pool and waterslide and nightly get-togethers for the adults in the bar and restaurant. Our friendly staff is at your disposal if you need advise or assistance in planning trips and tours in and around wonderful Hua Hin.
Rental management
Do you wish to rent out your house when you are not in Thailand? Orchid Paradise Homes offers efficient rental management at low operating costs and consistently high levels of quality in all steps of the process. Our approach is friendly and personalised retaining close relationships with clients and tenants at all times. Orchid Paradise Homes has a very functional and easy manageable rental website dedicated to holiday rentals ( www.thaivactionhomes.com ) where your house will be listed and promoted. All you have to do is to inform when you wish to rent out and Orchid Paradise Homes will take care of the rest; administration, management and maintenance. We answer all inquiries, confirm bookings, manage check-in / check-out, house cleaning etc.
All you have to do is to relax and watch while your villa creates a solid revenue for you while you wait for your next vacation in Thailand!
Orchid Paradise Homes has successfully been manageing house rentals for our satisfied villa owners for more than 5 years now.